MOMOTARO jeans concept & facts.
When thinking about Momotaro, people imagine Okayama.
When thinking about Okayama, people imagine jeans.
Japanese jeans are beloved and respected all over the world for their detailed works of dyeing, weaving, sewing and washing. They have become the best in the world strictly because of the artisan spirit of their crafters.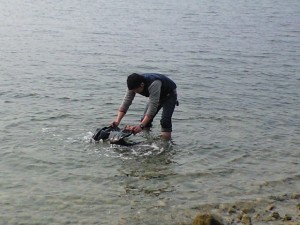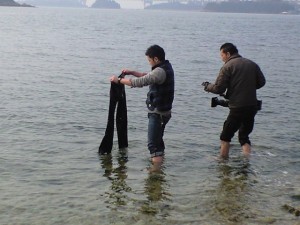 The origin of Japanese denim lies in Kojima-Okayama, or Kibi Land, as it used to be known, where there have always been many dreamers. Some of these dreamers were the artisans who have been creating the best denim in the world by strictly adhering to the time-honored low-technology manufacturing traditions which are seldom used today. Even with their hands covered in the indigo blue dye, they have been seeking ways to find the best cotton, yarn and the right shade of blue for their denim, challenging and going beyond the expectations of traditional fabric production.
Born in Kojima, Okayama, Momotaro Jeans was a dream that came true.
Jeans, just like many other clothes, are lifestyle products. Products that directly or indirectly have an impact on a person's life. People who succeed in their lives pay attention to choosing the right tools for the job. This includes the right clothes, as they are but a tool for completing one's appearance.
Momotaro Jeans aims to be not just another fashion brand, but rather an authentic clothing brand to be cherished. The brand's wish is that their jeans enrich their wearers' lives and state of mind thus improving life itself. After all, self improvement is encouraged, leading to good luck and success.
Manufacturing
Zimbabwean cotton is recognized as one of the highest quality cotton types in the 
world. It has also been evaluated as the best cotton type for high quality dress shirts.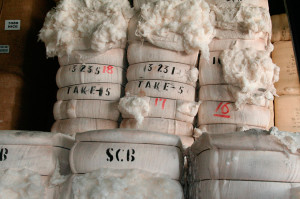 Harvested from crops by hand, the raw cotton stays undamaged and free from impurities until the actual manufacturing process. For that reason, Zimbabwean cotton has many characteristics provided by its well-proportioned fiber structure, such as the high luster and whitening, in addition to good pliability and dyeing abilities. For a great pair of jeans, nothing less than a long staple and less jointed original cotton fiber can be used.
Quality cotton is not only used to achieve smooth fits, but it also provides better durability than cheap and hard cotton. Also, using quality cotton creates a naturally well proportioned slub yarn which can influence the vertical fade, or Tateochi, which adds to the charm of the jeans.
Momotaro Jeans took notice of this and chose 100% original Zimbabwe cotton to make their jeans, pioneering its use. This high class cotton has been the foundation for the worldwide recognition of the quality Japanese denim is known for.
Indigo/rope dyeing
Since its discovery, synthetic indigo has become the more commonly used dyeing material rather than natural indigo. In the process, a group of un-dyed yarn are twisted together and dyed as a single unit called a rope. The characteristic of rope dyed yarn is that only the surface of the yarn is dyed, the core of the yarn still remains un-dyed and it delivers the Tateochi style vertical fade similar to American vintage denim.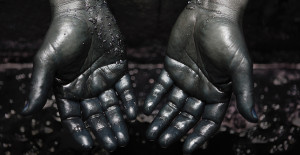 However, there are only few facilities in Japan which are able to produce the indigo rope dye which is an indispensable element of making denim. The indigo dyeing material which is said to be alive has an unstable character and has provided only a limited number of colors for the dyeing process. This makes the process require advanced equipment and plenty of experience in order to deliver a satisfactory color depth with a consistent color shade. Consequently, this has lead to the color of most of jeans makers to remain similar to one another.
Producer of denim fabric, Rampuya & Co., created the original color for Momotaro Jeans. Rampuya & Co. has been gathering information on the dye, as well as developing new material while staying true to the original dyeing process.
Hand woven denim 
The production of only one superior pair of natural indigo dyed, hand woven jeans takes at least three months to reach its final state. 
Tsuru no koubou, which was opened in 2002, owns an original hand weaving machine of which only few exist in the world. Hand woven denim takes almost eight hours of work per day just to produce one meter (3.28 ft.) of denim. This results in it taking at least three days to finish the denim for one pair of jeans.
The tension of the yarn on the looms differs on rainy and sunny days. It is also different depending on the season, for example, a hot summer and a cold winter. In such conditions weaving a yarn into heavy ounce denim requires the right rhythm. Denim fabrics weaved at a uniform rhythm with a hand loom, compared to those weaved by power looms and without such a technique, maintain a diagonal and loose density with a clear uneven surface, resulting in incomparable character.
Shuttle looms
Seldvedge (selvage) is an essential element of vintage denim. It functions as proof of the fabric being only weaved by the vintage looms called shuttle looms. Shuttle looms were invented in England in 1785 and later developed in Japan by Sakichi Toyoda, father of Toyota Motor Corporation founder, in 1897. When domestic heavy ounce denim was produced in Japan, automatic looms made by Mr Toyoda were a mainstream product, though no longer produced nowadays. The traditional production method has nearly disappeared due to the mass production of denim following the popularization of latest shuttle looms.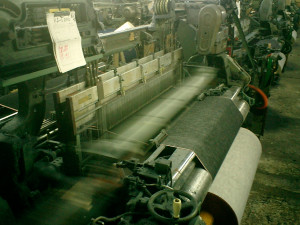 Denim fabrics for Momotaro Jeans are mainly made by shuttle looms. In order to weave heavy ounce denim with a rough feel, lowest possible tension and without losing any of the cotton's original characteristics, a careful selection of power looms and a slow weaving technique are required to create genuine denim.
Momotaro Jeans pays strict attention to working on every part of the process such as the right choice of cotton, shape of slub yarn, dyeing, and weaving. This is why Momotaro Jeans delivers perfect fit and brilliant fading. 
Sewing
For original jeans made from genuine denim, a special vintage sewing machine is indispensable.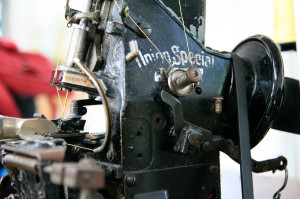 In the early stages of the domestic jeans production in Japan, American production equipment, such as the Union Special Sewing Machines, were imported. By the late 1970s the imported machinery had replaced the local mass production equipment. The domestic sewing machines had a different structure from the vintage sewing machines, creating differences in the skew or puckering around the chain stitched part of the jeans. In order to provide this vintage skew and puckering, Momotaro Jeans has gathered the remaining Union Specials in Japan.