Wheels & Waves : the Momotaro journey!
So a while back we introduced to you the Dutch 'Urbanised Farmers'. Two guys building and modifying vintage motorcycles in their spare time. We crossed paths and decided to follow them in their journey. Last month they went on a trip to Biarritz to visit the Wheels and Waves, a great festival where the custom bike scene meets surfing, art and music. It's basically a festival for anyone who loves the custom bike scene and the related subculture(s). Dressed with our matching Momotaro 'GOING TO BATTLE label jeans' they browsed through the venue as kids in a candy shop "all the bikes that you could ever dream of are here to see, touch and admire, its truly awesome!" according to Luuk and Pim.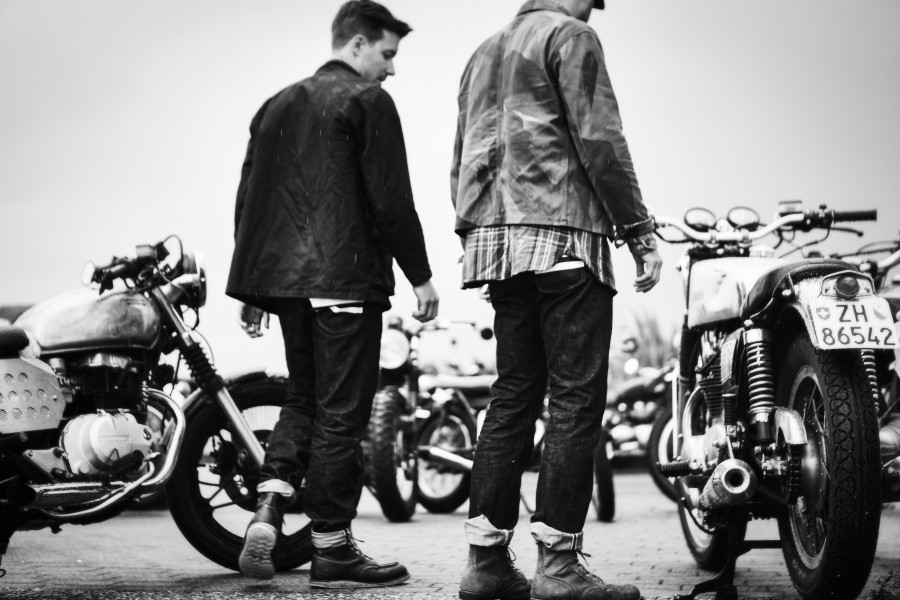 Here's their story:
After a lot of preparation we finally got to the point where we could load our bikes onto the trailer and hit the road. We have to says that after all the sacrifices and, countless hours of greasy hands It's quite a special feeling to head down south with your childhood friends and 3 bikes on a trailer behind our good old VW van. From this point on, it didn't really matter if things wouldn't all go smoothly (ohh and it didn't): in our minds we already made it.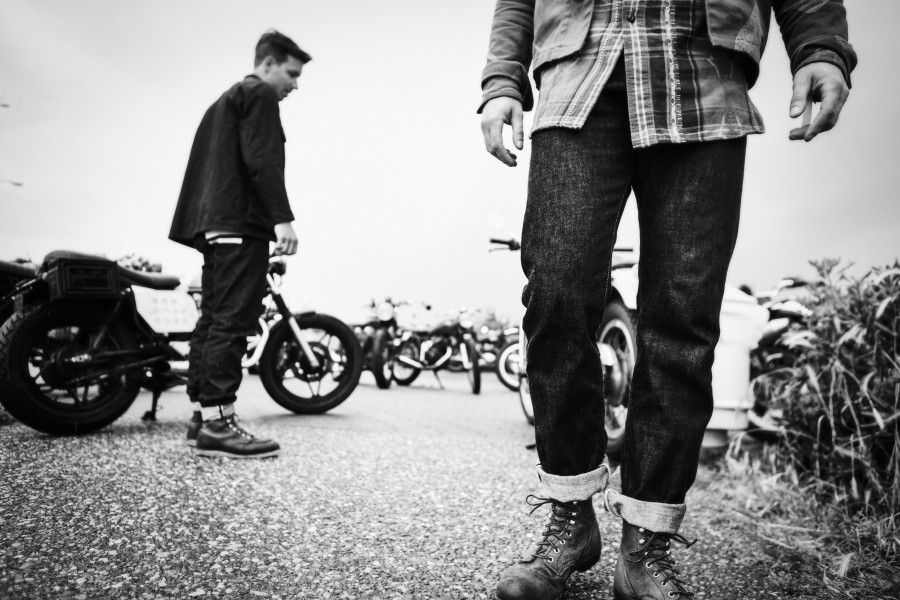 The trip there was definitely part of the experience! Every time you go to France you realize what a beautiful country it is. It's also pretty damn huge! Especially with a van+trailer combination. Good company and good music makes the time fly by, but it still took us 2 days to get there. Good thing we were not in a hurry, so we sat back and enjoyed the beautiful scenery. The part between Bordeaux and Biarritz was especially stunning.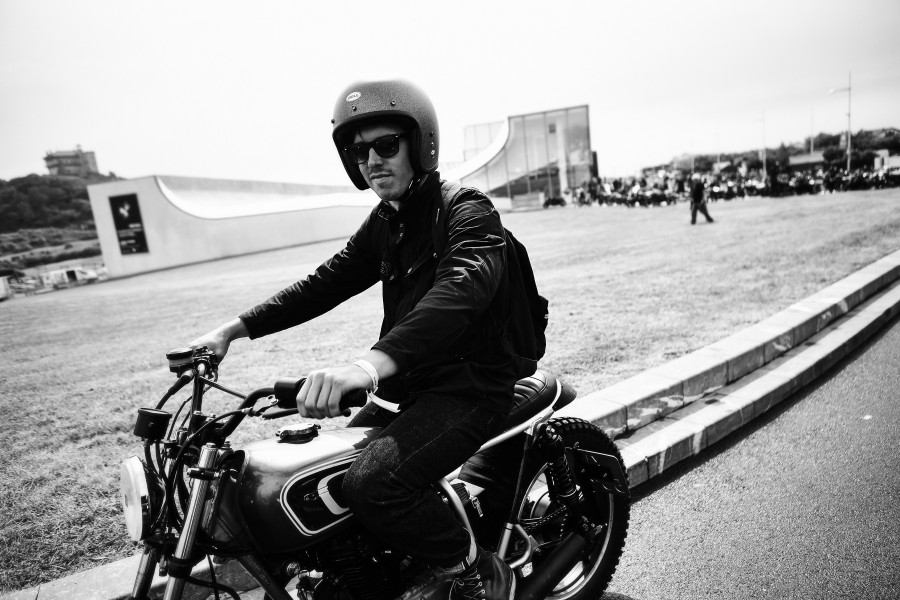 So we arrived at Biarritz. Cool little town! After some looking around we got to the campsite and set up camp.  We brought a big ass tent to create a comfortable nest in.. If only someone (lets not mention him) hadn't forgot the tent poles.. The alternative was Luuk spending the week living in the van and Nicky and Pim romantically sharing a 2 person tent the lady next door lent us. The other guests were a friendly mix of people from all over Europe, all approvingly smiling when they saw us unloading the bikes. To our surprise they were still smiling when we fired up the engines. We were still early, wouldn't start for another three days so there were only a handful of bike guys around. Two German guys with cool brat BMW's, a French couple with a stunning original Honda CB550 and two Harley-Heads from the Netherlands. The camaraderie between bike enthusiasts showed right away. We spent the next days taking our bikes out to explore Biarritz and do some surfing at the impressive shore. What a great feeling to be able to ride the bikes here in the southwest of France! The night before the festival started we walked from the campsite to the centre of the town to go for a drink (or two). During this walk (about 45 minutes) we heard dozens of motorcycles going up and down through the hilly roads approaching from total darkness only to pass by full throttle seconds later. Goosebumps: it was officially ON.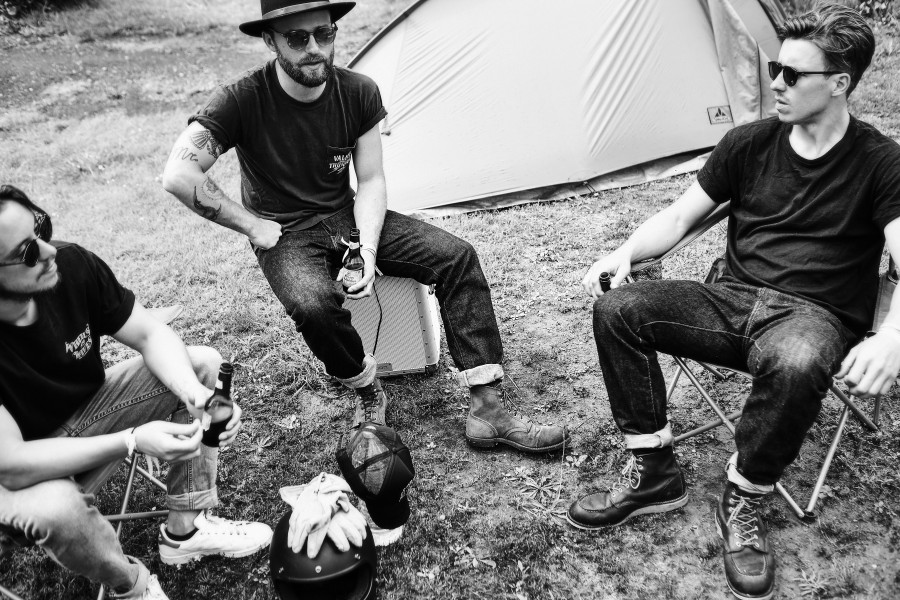 Wednesday morning we headed to the venue where the festival was being held. Cité de l'Océan, city of the ocean. What a cool place for a festival like this. The contrast between the modern lines of the buildings and the old tents that inhabited the different vendors made an interesting sight. The festival itself was what you would expect. Only cooler. We've seen the pictures of previous editions, but being there to smell the exhaust fumes and grilled burgers is something else! The crowd is a melting pot of people from different creative scenes and countries all over the world gathering to meet and observe each other's creations. Relaxed and easy at any moment.
The differences between the bikes were pretty big, but roughly divisible in 2 groups, pro builds and shed builds. The pro-builds were mainly either built or commissioned by big brands such as Yamaha, Harley Davidson or Deus Ex Machina. A good thing, as it's cool to see what comes out when you combine skills and a heap of money! The shed bikes were built by individuals or small label builders. An interesting group as it shows what you can do with limited money (and time), but unlimited creativity and dedication! We went to 'showcase' our bikes as well. But the main goal was to meet up with some old friends, and make some new. Our bikes were fresh out of the shop, so basically our first test drives were in Biarritz!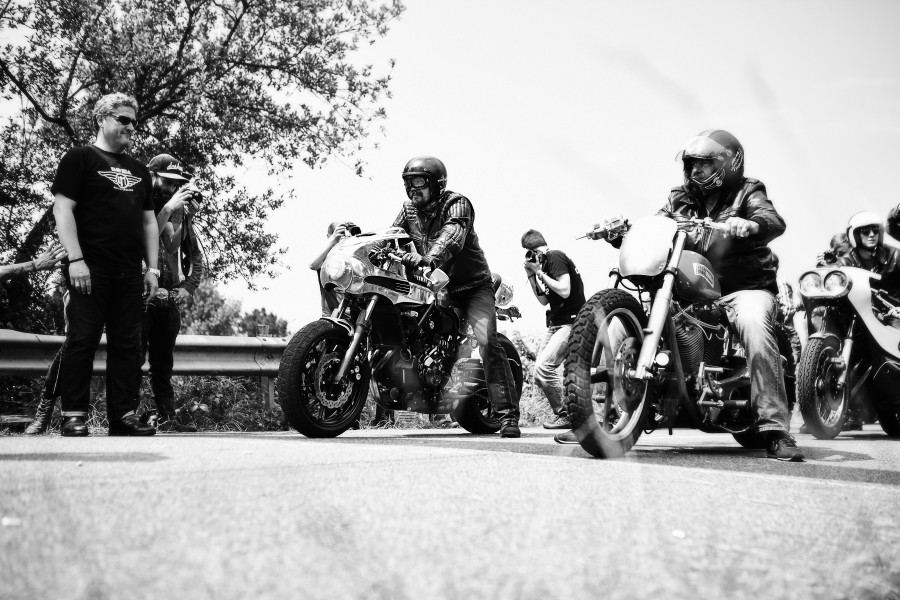 On Friday the Punk's Peak Race was planned. A few hundred meter sprint race open for anyone with the courage to take part. The race took place in Spain. In the mountains of Jaizkibel, Basque country. What an amazing place, overlooking the sea. We drove our bikes there in the early afternoon. On the way we made some new friends, lost bikers like ourselves. Fortunately an old dude on a rough BMW knew the way and lead us into the mountains. He had definitely seen these roads before and we had to open the throttle hard to keep up! In the end we made it up the hill and witnessed the crazy sprints. Wouldnt it be cool to take part? Maybe next year! The way down the hill Pim's bike was still a little bashed from the way up and we found ourselves stranded with a jammed clutch in a town called Irun, just before the border with France. Irun wasn't the worst place to strand. We enjoyed a pincho de tortilla and a well deserved beer as we waited for the back-up trailer to arrive. A great day..
Before it was time to go back to the Netherlands we wrapped up the week enjoying a party at the Wheels and Waves venue. We felt sad to go back home. The weather could have been (way) better, our bikes could have been better, but man this was awesome! We want to thank Momotaro for their support and involvement in what we do. We'll definitely be back next year!
To show our support we sent the Urbanised Farmers a few pair of Momotaro jeans to wear and test during their trip. Both Luuk and Pim are denim enthausiast and have known Momotaro, but never owned a pair before. We were interested to find out how they like them! Some of their insights on the jeans:
Pim:
"When you unpack them the craftsmanship is the first thing that catches the eye. You can tell that every detail of the jeans has been carefully considered. Along with the detail, the weight of the denim is what really distinguishes them from other selvedge jeans I have worn. 16.5oz denim is going to be durable as hell, and they fit way better than I could have hoped. They wear really comfortable! Even riding bikes, or occasionally leaning over them (and laying under them!) they stay comfortable. They really adjusted to my body."
Luuk:
"The jeans have a very good fit, especially riding a bike. The material seems rather stiff, but a few days the jeans fit like a glove! The colour of the denim is of a very cool, easy to combine with anything. I love the detailing of the jeans, like the pink stitching. This makes them really stand out!"
Take a look at the pictures taken by David Marvier, well known photographer in the custom bike scene! Check out more of his work on his website and on his facebook page.